Special Exhibition
Maya 2012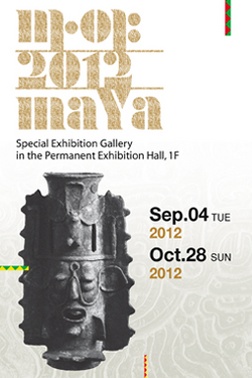 • Date: September 4 – October 28, 2012
• Venue: Special Exhibition Gallery
From September 4 to October 28 in the Special Exhibition Gallery, the National Museum of Korea (Director Kim Youngna) presents the special exhibition Maya 2012, which introduces the legendary Mayan civilization. The exhibition marks the 50th anniversary of Korea's diplomatic relations with both Mexico and Guatemala, and will feature about 200 Mayan artifacts on loan from both countries. Such a large exhibition featuring Mayan relics from both Mexico and Guatemala is exceptionally rare not only in Korea, but throughout the world.
The exhibition is divided into two major themes: Mayan views of the world and history, and the rise and fall of the Mayan civilization. The first part features artifacts from Mexico's Yucatan Peninsula that are on loan from the Museum of Anthropology of Mexico, including images of the Mayan King, who was considered an agent of God with absolute power, and relics related to the Mayan calendar and prophecy.

The second part examines the life and death of the Mayan people, covering the history of their civilization from its emergence to its mysterious decline. This part presents Mayan hieroglyphs, which are considered the most systematic characters in the Americas. The special exhibition Maya 2012 is part of NMK's World Civilization Series, which was organized to introduce those civilizations that have had the most significant impact on human history, and we are sure that it will make as deep an impression and provide as much excitement as the previous exhibitions in the series.

Click here for the exhibition details!